Milestones. Every one counts. Sure, the iOS app store has considerably more apps than the Windows Store today – that's not news.
But developers are adding to the Windows Store every day – and though some apps are removed from the store periodically, the number that grows every day. Today, the Windows Store broke the 2000 app mark and arrived at 2,079 apps available internationally.
Though I can't explain the divot of September 12th (the day after the Windows Store opened broadly to all locales), it recovered and is continuing to trend north, as you can see below.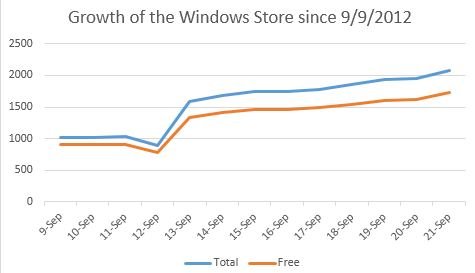 Just as importantly, as that number has grown, so has the number of paid apps. Free apps comprised 89% of the store inventory on September 9th, and that percentage has declined to 83% as of today.