If you've known me long, you've known that I've been far from Windows 8's biggest fan. For me, that's been for a specific reason. The concessions that Windows 8 makes to being touch focused have – I strongly believe – compromised the ability for those of us damned to the desktop to really use the platform.
While I believe Microsoft intends for Windows 8 to be a success both with tablets and on non-touch devices, learning to use the operating system if you have a "touchless" device as I do can be a chore. My main computer is a ThinkPad W510. A relatively beefy (read: horrible battery life) Intel i7 laptop, the W510 is, horsepower-wise, more than an optimal candidate for Windows 8. Though it doesn't support UEFI, it ran preview versions of Windows 8 quite well, whether I was running Windows to Go from a USB Flash Drive, or using VMware Workstation to run it virtually on Windows 7.
But my ThinkPad, like almost all Lenovos on the market in 2010 (and many today) didn't/doesn't/won't support touch. When mobile, it has a capable 15.6″ display, and at work I dock it and use my main monitor, a gorgeous 27″ Acer. Neither has touch, and with the distance between myself and the displays, my typical work layout would make me a good candidate for gorilla arm if I used touch all the time on either one: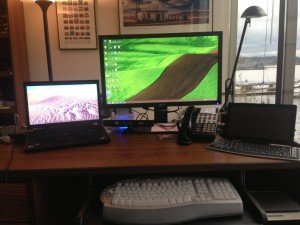 While friends kept telling me, "just memorize the keyboard shortcuts", I had to say, "no". Perhaps it's because I'm a visual/spatial person (a "colors" person as a colleague says), perhaps it's the sheer frustration at needing to memorize keyboard shortcuts to do what I used to use a mouse for, I didn't want to learn 20 keyboard shortcuts. A colleague pointed out how excited I was to learn 13 new gestures upon getting the Logitech, and I guess we're both still befuddled at that.
I had heard from several people that had tried the Logitech T650 that they were very satisfied with how it worked for them. Having used MacBook Pros for 3+ of the years I worked in Austin, as well as using ThinkPads and Toshibas with decent trackpads (but nothing like Apple's) and being a very happy user of the Apple Magic Trackpad at home on my iMac, I really wanted to try the Logitech and see how it worked together with Windows 8. Only problem? I couldn't find one! My local Best Buy seemed to sell out as soon as it received a shipment. A local reseller was supposed to get some in late last week, but still hasn't. I happened to be by Best Buy in Bellevue, WA on Wednesday evening and they had one left. One. As best I can tell, the device is selling incredibly well. Unfortunately when I tried searching a couple of retailers online, I didn't even get out of stock notifications – just pages telling me that they no longer sold the HP TouchPad (unfortunate naming overlap).
I've had a few people ask me why I didn't just use another Apple Magic Trackpad. Because Apple's gesture support for Windows stinks. They could enable the same gestures for Windows as they do on the Mac, but it would take considerable work, and to what end? So only a fraction of the gestures enabled on the Mac work on Windows – and none of the ones that would make life with Windows 8 much more palatable without touch.
Touchpad in hand, with a freshly installed upgrade from Windows 7 Pro to Windows 8 Pro installed, I set forth to try it out. The device is packed in a box that is vaguely Apple-like. No foam, a bit of paperboard. No driver CD included. Comes with the Touchpad, wireless dongle, charging cable, and instructions/warranty info.
First impressions? The Touchpad is big. No, not as big as Logitech's odd "Touchpad in Lilliput" images on their site may make you think. but it is significantly larger than the trackpad on my ThinkPad. Here is an actual picture of the T650.
The device is wireless and requires no batteries. Logitech claims roughly one month per charge, and mine came fully charged as best as I could tell. You can also use the device while it is charging, which is a nice touch.
Assuming mine was not charged, I plugged in the USB dongle (I wish it was just Bluetooth!), the cable to another USB port and the other end to the Touchpad. There is no software included, but upon plugging it in, it installed the Logitech receiver and prompted to download and install the Logitech SetPoint Software. It was a very smooth, consumer-friendly experience. My only frustration was trying to use the Logitech Unifying Software, which prompts you to power cycle the Touchpad in order to pair it. I was never able to satiate the software that it was paired, yet the Touchpad worked. Odd.
The SetPoint software is relatively well designed, and easily lets you tweak which gestures trigger left, right, or middle click. I configured mine to mimic Apple's, which I'm used to. Single finger click for left click, double finger click for right click.
Most importantly, for a device with no physical (or on screen) Start button, getting back and forth from the Start Screen and desktop was most critical to me. For this, a three finger swipe up gets you to the Start Screen. Three fingers back down gets you to the desktop. Three fingers down again minimizes all desktop apps and shows you the actual desktop. Nice touch. Two fingers allows you to have a Mac-like smooth scrolling experience. While Tweetro+ was temperamental a bit with this scroll, tending to overscroll a bit, Word, IE, and Outlook seemed to work quite well with it. A three-fingered swipe back and forth functions as a back/forward button and was wonderful in IE in particular.
The commonplace two-finger pinch gesture enables you to zoom in or out in many applications – I did experience some frustration in getting WinRT-mode IE in particular to like this gesture. Scrolling and pinch and zoom didn't seem to work in the Windows common control (File Open) dialogs, an unfortunate, but minor omission.
Swiping in from edges works as you'd expect, with the app switcher (left swipe in) and Charms (right swipe in). Theoretically the top and bottom edges also display the app bar as they would on a touchscreen. While it did work sometimes, I found it a bit more temperamental. My one wish for the device would be that in a future design, Logitech include a small (say, 1/4″) outside edge that can be felt, or perhaps a small indentation to place your finger on in order to start an "edge gesture". I say this because in particular the gesture to trigger the Charms is hard to place correctly. You want to almost start with your finger partially off the right side of the device and swipe on, but that doesn't work well. In testing, I eventually found that the device is somewhat tolerant of this, and you don't have to have your finger truly on the edge in order to do an edge gesture. That said, having an actual edge or bevel might make this easier for novices to learn.
Finally, Logitech includes several 4-fingered gestures for dealing with the currently active desktop application. These mirror Windows Snap functionality and include four finger swipe up or down (maximize or minimize, respectively), and left or right (left or right-side Snap). Unfortunately, these gestures don't work to snap Windows Store applications, nor am I sure Logitech could even enable that if they wanted to.
Like the Apple Magic Trackpad, the T650's click is physical – and how well it works depends on the surface you use it on. On my wooden desk itself it worked flawlessly. On the 3M "Precise Mousing Surface" attached to my keyboard, which slightly wobbles? Not so well. I view this as more of a defect of my desk than the Touchpad, personally. All in all, the device is built quite well.
I think that while there may be a category of Windows Store apps that this device still won't enable (games, drawing applications or other application best handled with actual direct touch), a broad swath of the Windows Store applications, and Windows 8 itself, become much more readily approachable with the T650 than I believe they do with a mouse. More importantly, the T650 allows you to interact well with Windows 8 while still interacting well with the desktop environs and desktop applications that many of us will still be using for quite some time.
Once you get adjusted to the gestures included in the Logitech T650, I firmly believe you'll find that not only is it a thoughtfully designed device that complements Windows 8, it is a device that honestly lets Windows 8 shine on touchless devices much better than it (Windows 8) can on a device equipped solely with a mouse.
Device specifics:
Interface: Proprietary wireless. Works with some other Logitech devices.
Included: Touchpad, wireless dongle, charging cable, instructions/warranty info.
Price as tested: $79.99 before tax. Available at some locations for slightly less.
Dimensions (courtesy of Logitech):  Width: 134 mm / 5.3 in. Height: 8.7mm / 0.34 in. 12mm / 0.47 in. (USB cable plugged in) Length: 129 mm / 5.1 in.
Wireless: 33-foot wireless range, 2.4 GHz (Logitech proprietary – not Bluetooth).
Works with: Windows 8, Windows 7, Windows RT. I tested on Windows 8 – cannot speak to the experience with Windows RT.
Pros:
Excellent gesture support, makes Windows 8 without touch habitable.
Well-designed interface for tweaking actions for the built-in gestures.
Phenomenally large trackpad surface.
Cordless, yet rechargable through included USB cable, no batteries needed.
Glass top makes it serve as an excellent coaster. I kid!
Cons:
Not cheap.
Requires proprietary Logitech USB dongle. Augh.
Should have a bevel or edge to demarcate the outer edge for edge->in gestures.
Pairing app didn't work. But it paired. Very confusing.
Clicking action, while good, requires a very stable surface in order to achieve a solid click/right-click action.
Colleagues may want to use it as a coaster.
Recommendation: Want to/need to use Windows 8 on a touchless device? GET THIS! NOW!